-72%
Comprehensive IELTS Academic Band 8 Complete Preparation Course + 5 in 1 Academic eBook Combo
24+Hours of video content (100+ lectures)
FREE eBooks worth $185 (5 in 1 Combo Academic eBooks)
Includes Practice Assignments
5 Full-Length Mock Tests
IELTS Certified Trainer
Includes all 4 sections
Note: Once you complete the purchase, the 5 in 1 Academic ebook combo will be delivered to your email ID instantly, And Comprehensive Band 7+ Complete Preparation Course access with the login credentials will be sent to your email address within 1 hour.

Description
With this course, you get $69 worth of bestselling eBook combo FREE, which is: IELTS (Academic) 5 in 1 eBook Combo ( Listening + Speaking + Reading + Writing Task 1+ Task 2) (September – December 2021)
IELTS 7 Plus Complete Preparation Program is a 5 hour 30 minutes flexible academic preparation course. This course covers all sections of the IELTS Academic test: Writing (Task 1 and Task 2), Speaking, Listening and Reading.
In this course you will learn:
Reading module:
Skimming and scanning techniques to save time and find the answer quickly in the text
Tips for how to answer all IELTS question types from True – False – Not Given to matching headings and multiple-choice questions
How to be sure you have chosen the correct answer
How to deal with long texts and unfamiliar vocabulary
Listening Module
What to expect in the four sections of the IELTS Listening test
How to answer all different question types
How to predict the kind of answer you are listening for
How to avoid leaving a blank by making an educated guess
Writing Task One module
How to summarize the important information on all types of diagrams and charts
How to identify the main trends and write an overview (the "elephant")
The appropriate language to describe, compare and contrast the information
How to structure your response in a logical way
How to use a wide range of grammatical structures
Writing Task 2 Module
How to analyze and structure all types of IELTS Writing Task Two questions
The vocabulary and grammatical structures needed to achieve a high band score
How to check your essay using the Writing band descriptors
And you will find many model essays that follow the given structures
Speaking Module:
How to answer questions in all 3 parts of the IELTS speaking test
How to expand your answer and speak fluently
How to avoid long pauses using fillers
The most common general IELTS speaking topics
Useful vocabulary for common IELTS speaking questions
And you will find many model answers to common questions
---
Who this course is for?
IELTS Students who need USA, UK, AU, or Canadian University admission should take this course.
Students looking to score more than IELTS Band 7
Also, Get FREE!! IELTS Academic 5 in 1 eBook Combo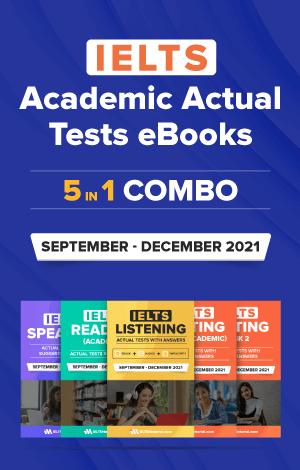 You may also like…
Provides IELTS candidates with more than 100 IELTS Reading Passages & Questions from the actual previous IELTS tests so that IELTS test takers can tackle the exam with ease.
Provides an answer key at the end of the book with detailed answers by IELTS Trainers.

You will save $10

64

)
(

This eBook contains:

Words specific to each topic
Idioms and Phrasal verbs
Exercises
A popular essay for each topic

You will save $7